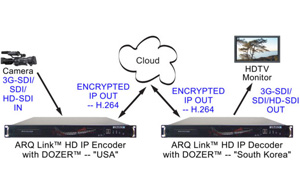 Traxvision India provides scalable End-to-End News gathering solution which can be integrated into all IP centric broadcast and broadband operations. With Ultra Low delay encoders/modulators, broadcasters can broadcast/stream content within 100 milliseconds live from their DSNG vans and Teleport.
Solutions are based on the industrial standard codec which provides unrivaled performance, reliability, and quality over low data rate IP networks for fast
transmission and play-out of video streams in HD and SD. Our platform solutions enable broadcasters, government agencies, enterprises and other users to enhance their content ownership, simplify operations, and increase operational efficiencies.
The ability to stream high quality, low latency live video over IP enables Broadcasters improve work flows, and enhance procedures & effectiveness.
Traxvision India offers Contribution & Distribution HD/SD MPEG-2/MPEG-4, HEVC Encoders, Decoders and Transcoders.